Water Damage Decatur
When a flood affects your home, you can stay calm knowing that our water damage Decatur professionals at 911 Restoration Gwinnett and Forsyth will be at your doorstep within 45 minutes of receiving your call.
The IICRC certified Decatur flood mitigation agents have extensive training where they have learned how to repair multiple causes of water damage, such as:
Flooded crawlspaces

Pipe bursts

Toilet overflows

Fire sprinklers

Ruptured hoses

Roof leaks

Water heater floods

Plumbing disasters
Being able to use such state-of-the-art equipment sets the Decatur floodwater removal crew apart from their competition, since our innovative technology allows us to conduct thorough water damage restoration with technicians who are available 24/7/365, no matter how severe the damage may be.
Call our licensed, bonded and insured Decatur water damage cleanup staff to pump water quickly out of your property.
We Will Eradicate Both Water Damage and Mold
Mold spores only require a small bit of water to create a mold infestation in your home, so to be safe you should allow our Decatur mold removal techs to conduct a free home inspection where they check every corner of your property.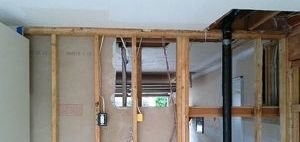 When water is left to cover the surfaces of your home, then it allows mold spores to grow.
Fungus is one of the the most common consequences of water from a leak, flood or pipe burst. When left unmitigated, mold and fungus have the ability to create health problems in those living in the home with the substance.
It has the ability to cause breathing troubles, coughing, sneezing, headaches, itchy eyes, and skin rashes.
Our Decatur flood removal team has been restoring homes for many years, where we have been trained to implement the professional grade water extraction and drying machinery to extract water and create a dry, clean living space for you and your family.
Don't let mold and fungus effect the health of your family or structure of your home, and call the Decatur water removal specialists today.
When Floodwaters Affect Your Home, We Will Be There To Help
When it comes to filing your insurance claim, it can sometimes be difficult to understand exactly what you need to do to get the coverage you deserve.

Luckily, the Decatur water disaster agents have many years working with insurance companies, and they are more than happy to file your claim for you.
Not only will this allow you to sit back and relax while we handle your policy, but it also gives you more free time to take care of your loved ones while the restoration takes place.
We just want to make the home restoration process as easy on you as we can, which includes help with insurance, affordable prices on all of our services and around-the-clock customer service.
Call our water damage Decatur technicians with 911 Restoration Gwinnett and Forsyth as soon as you realize your property has been affected by water damage, and our service agents will do whatever we can to give you a fresh start!